Event Recap: "Imagining & Narrating Plague in the Ottoman World: A conversation with Orhan Pamuk and Nükhet Varlık"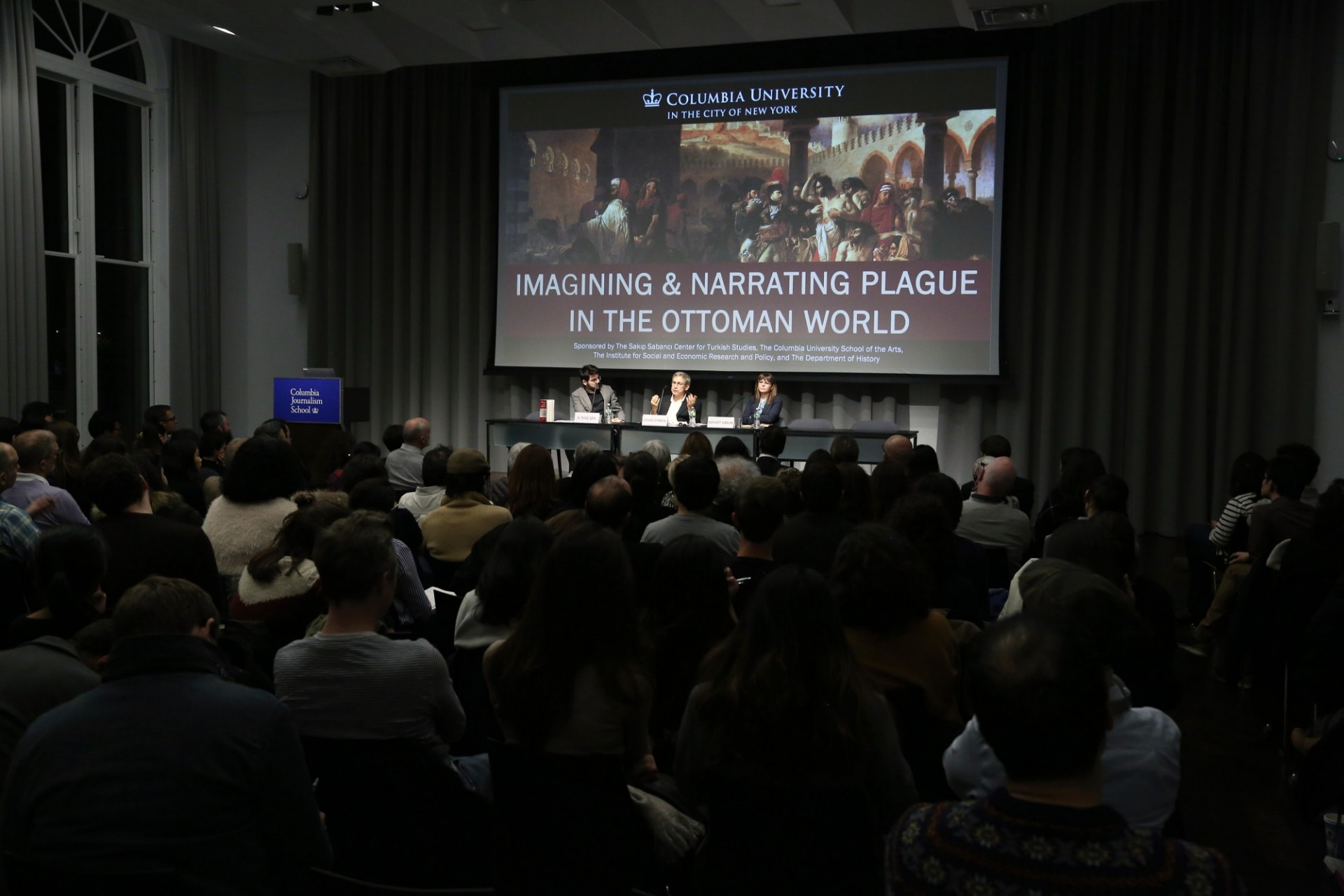 On Monday, November 12, 2018, at Columbia University, we were fortunate to hear from Orhan Pamuk, recipient of the Nobel Prize in Literature (2006), and Nükhet Varlık, award-winning plague historian, on the topic, "Imagining & Narrating Plague in the Ottoman World." The discussion was facilitated by A. Tunç Şen, Columbia University professor of history, and was nothing short of an eye-opening experience.  
On Pamuk's end of the talk, we saw a novelist's perspective on plague in and around the Ottoman Empire that was built upon Pamuk's extensive cultural knowledge of plague gained from over thirty years of reading and research. Among some of the cultural texts Pamuk referenced were works such as Robinson Crusoe, by Daniel Defoe, numerous other fictional works, and historical documents. Pamuk's outline of the rich literary and historical sources surrounding the topic of plague and its societal backdrop communicated the global nature of plague and of individual governments' efforts to fight it.
Varlık, on the other hand, offered perspectives from the historian's lens on plague throughout the Ottoman Empire, speaking of specific medical, religious, and other types of archival sources that have helped inform her work on plague among the Ottomans. Varlık seemed very interested in the Orientalist aspects of historical documents written by Europeans contemporary to the Ottoman Empire, as these works often seemed to judge the Ottomans on their lack of quarantine. This is where Varlık discussed her opinion that Western medicine is, many times, seen as the proper medicine, while Ottoman medicine is the implied "other" type of medicine.
Pamuk noted disagreement with some of Varlık's arguments on this subject in that he views Ottoman society as having a somewhat fatalistic attitude towards plague. However, the two ends of the discussion came back together when Pamuk and Varlık opened their talk to a wider analysis of the universal themes surrounding plague, stating that plague is always accompanied by gossip and by the question of whether or not people can or should flee plague-ridden areas. This was an intriguing topic, as these two elements are evidence of the global nature of plague and its ability to draw out many of the same effects in cultures viewed as very different from one another.
This event was sponsored by The Sakıp Sabancı Center for Turkish Studies, The Columbia University School of the Arts, The Institute for Social and Economic Research and Policy, and The Department of History. 
See the event photo album here.
Listen to the Ottoman History Podcast recording of the event.